Aaron and Debbie Fogle are established outdoor experts and backcountry outfitters, now offering exciting backpacking adventures, guided day hikes, and local hiking information for the eastern White Mountains of Arizona 
Their story is a simple one: they met and married in 1997 while working on a ranch in Colorado. Aaron managed wildlife and guided guests in the backcountry, while Debbie trained horses, gave riding lessons, and guided rides. They moved to Alpine, Arizona, that same year and have been exploring the southwest ever since.
 Over the past thirty years, they've been full-time outfitters on five different ranches in New Mexico and Colorado. They've spent their careers keeping people safe and happy in the most rugged and remote parts of the west.
The guest experience is their main priority, trumped only by safety. They've covered all the details necessary to plan your safe, fun, one-of-a-kind adventure, focusing on your individual needs, fitness level, and expectations.
Hike Southwest LLC was created to share passion, experience, and local knowledge gained from hiking thousands of miles across the Apache National Forest. They've created some pretty awesome day hikes and multi-night adventures, now you can visit the hidden gems of the eastern White Mountains too!
You can feel comfortable knowing you are in good hands with the Fogle's. Aaron is a retired captain from Alpine Volunteer Fire Department, certified as a structure and wildland firefighter, sawyer, wilderness first aid, CPR, and Stop the Bleed. Debbie is certified in wilderness first aid, CPR, Stop the Bleed, and food handling.
A strong part of their business model is giving back through trail stewardship. Their goal is to increase safety and improve the hiking experience for all by clearing trails and sharing current trail conditions.
They've partnered with Wild Arizona this summer and are proud of their combined stewardship efforts. They're actively encouraging everyone who likes hiking to volunteer. Together, it's possible to make a difference in the conditions of our trails.
When the couple is not hiking or clearing trails, they can be found fly fishing in Colorado's Weminuche Wilderness with their son, Corey, or long-distance hiking the many famous and lesser-known trails throughout the west.
Aaron and Debbie are looking forward to sharing their love, passion, and intimate knowledge of the Alpine area and greater White Mountains with you!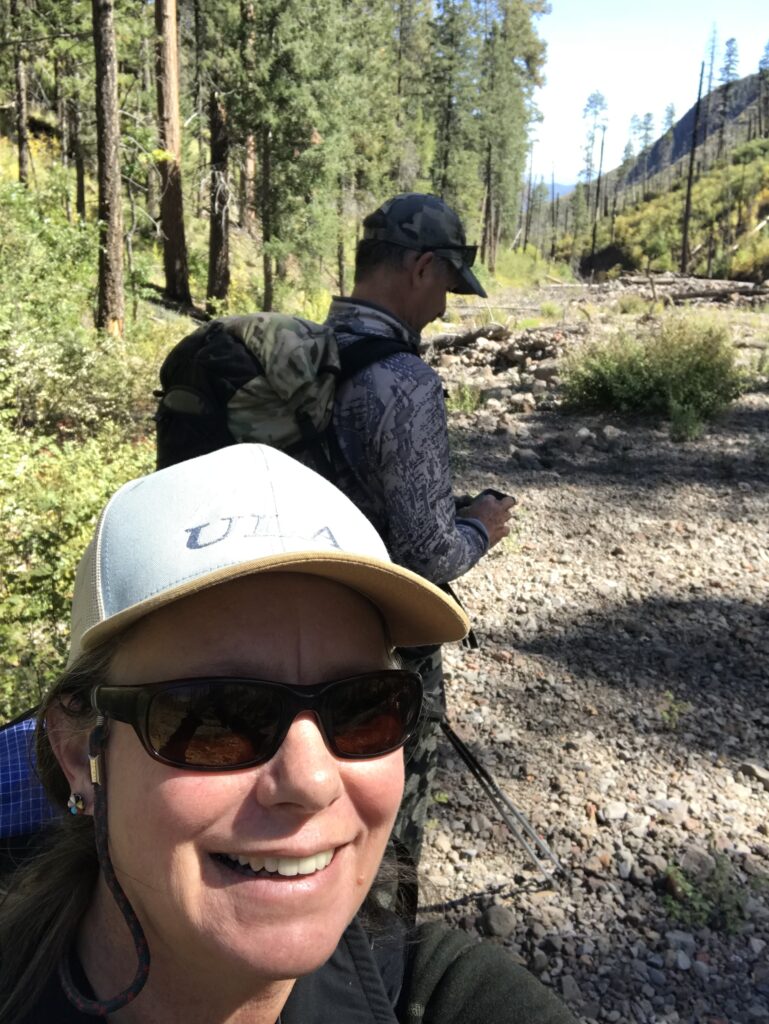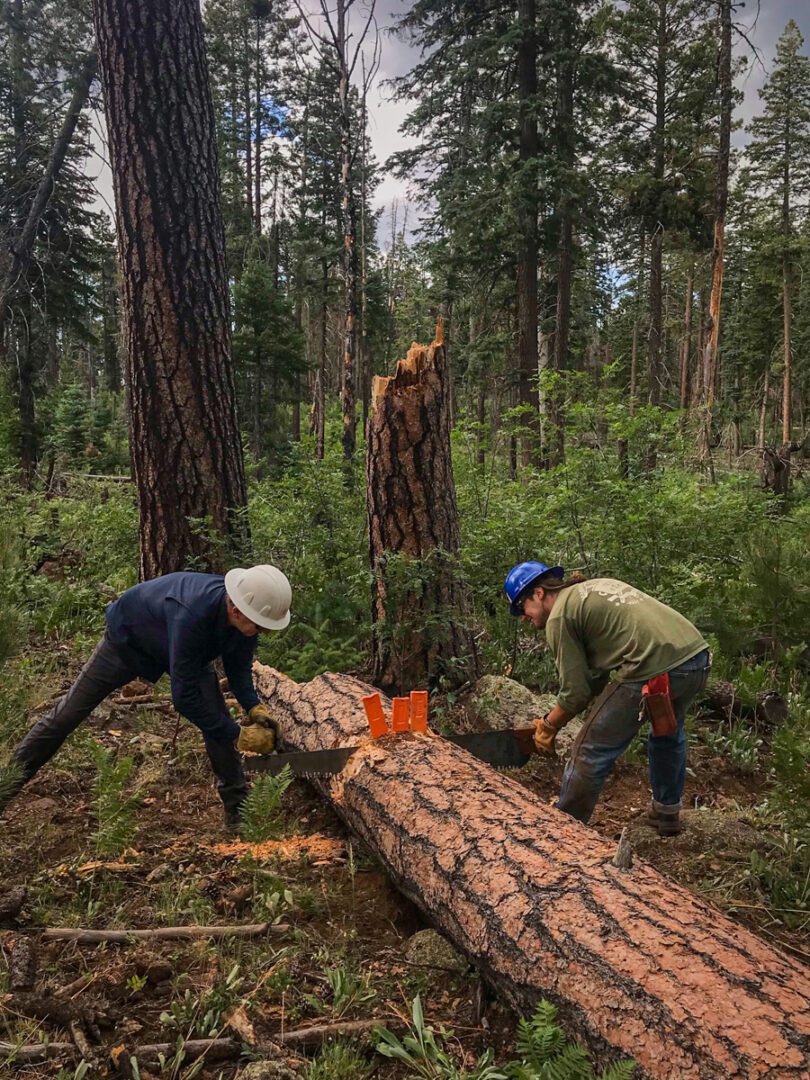 "I needed to shake down a new pack and had the opportunity to tag along with Debbie and Aaron on a two-day one-night hike in the Blue Range Primitive Area. This area is one of Arizona's best kept secrets and lightly used. It has an extensive system of trails that no one knows better than Debbie and Aron except the long-time ranchers of the Blue.
Water is always a top concern when long distance hiking in the high and arid west and Debbie and Aaron know where the water is. We spent the night at a great camp site close to a little creek. I highly recommend their services; they are accomplished thru hikers and outdoors men with years of experience."
See you on the trail, G-Man
Our mission is to provide all skill levels with fun, safe, hiking, backpacking, and camping adventures across the rugged and wild Mogollon Rim country of Arizona's White Mountains.
We love being outdoors and enjoy sharing the benefits of nature, the perfect environment for personal growth, reflection, and self discovery.
Our vision lies in creating a caring and inclusive hiking community that gives back through education, inspiration, donations and trail stewardship. We strive to be the good.
We value an outdoor experience based on honesty, integrity, hard work, flexibility, and a good sense of humor. We prioritize sustainable use of the landscape through principles such as Leave No Trace.
We're dedicated to providing a positive, inclusive environment where employees, guests, and everyone we interact with can thrive and succeed. Safety is our number one priority, and we never put profits over people or the environment.
We are humbled by the opportunity to serve the outdoor community in this way.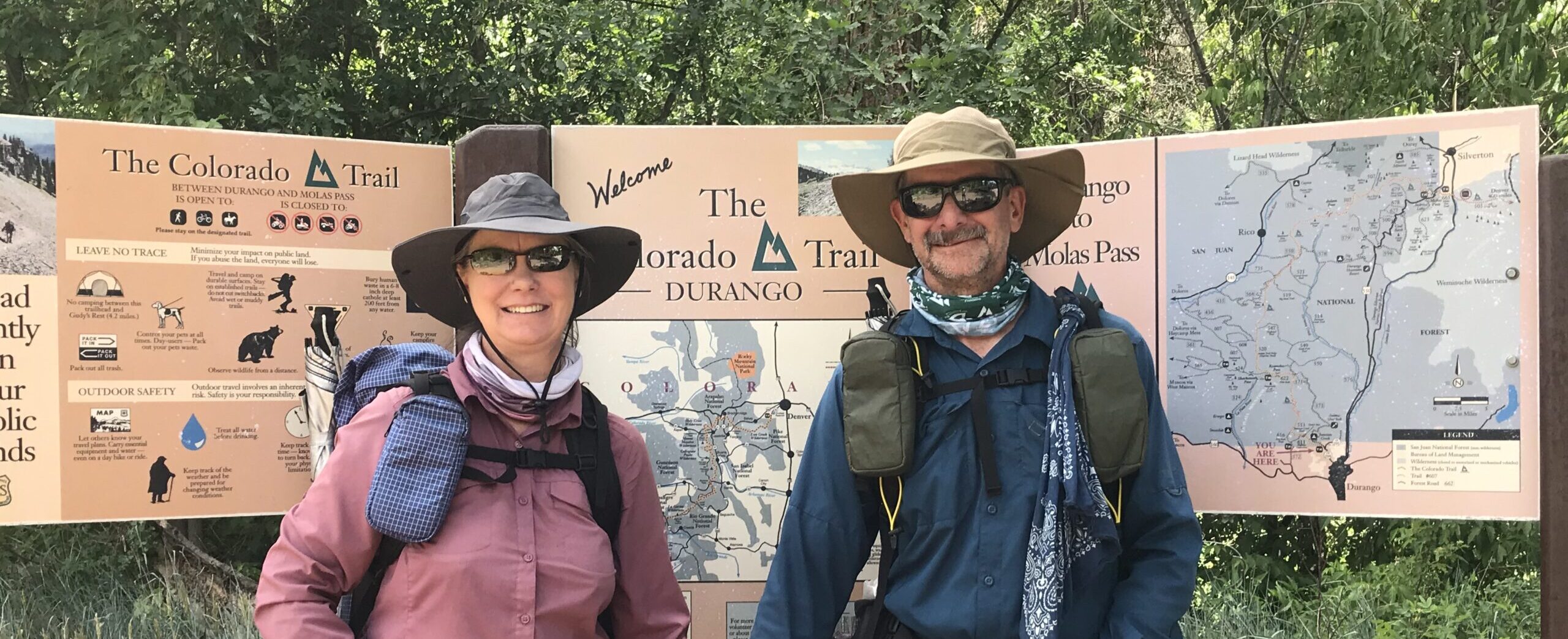 This is us finishing the Colorado Trail in 2021. We started the trail in 2020, but with much regret, had to stop 413 miles into the 485 mile adventure. Aaron had been struggling for several days with knee pain and with the push to finish on time and dodge weather, we were doing upwards of 15-20 miles every day.
We came back strong in 2021 and were the first official completers of the year. Aaron's knee had recovered with rest (torn meniscus), and we sailed right through the last 75 or so amazing miles to complete the trail.
I'm glad we got to come back to the trail, despite the previous year's disappointment. It gave us another opportunity to experience one of the most beautiful trails in the country, and there's nothing we like more than living wild and free, traveling across the landscape with our bed on our back and mountains on the skyline!
Click below to watch a slideshow of our stunning Colorado Trail adventure...
About the Colorado Trail (from Wikipedia)
'The Colorado Trail is an established, marked, and mostly non-motorized trail open to hikers, horse riders, and bicyclists. From the eastern terminus at Waterton Canyon, southwest of Denver, the trail winds its way for 486 miles through the state's most mountainous regions, ending about 3.5 miles north of Durango.
Along the way, it passes through eight mountain ranges, six National Forests, and six wilderness areas.  A hiker traversing the entire length of the trail will gain (and lose) about 89,000 vertical feet.'
Sign Up Now!
Stay on top of Alpine area hiking news, trail information, conditions, and exciting special offers!